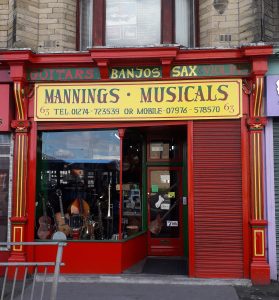 The shop is currently closed, but 'Click and Collect' is available. Payment to be made by bank transfer. If, upon collection, you are not satisfied, a full refund is of course available, by the same method.
The shop will re-open Monday 12th April, subject to government guidelines.
THE SHOP HAS MOVED, 20 metres, and is now at number 63.
Manning's Musicals has been trading in used musical instruments 
for over 35 years.
63 Westgate, Bradford. BD1 2RD West Yorkshire. UK.
Telephone – 01274 723539.
Opening hours = 10am – 5pm.
Closed for lunch 1pm – 2pm.
Closed Wednesdays and Sundays.
ALL THE INSTRUMENTS IN THE VARIOUS CATEGORIES ARE

SOLD


unless they are in the "

FOR SALE

" section!
Click on any of the photos to enlarge them.
Please note.
If you want a valuation of an item, send at least 2 photos (front and back), and all relevant information, IE, Make, model, serial number, size and condition, and where you are!
 This service is provided at a charge of £5.
No charge if the item is estimated to be worth less than £50.